Gunn & Moore Purist Geo II Cricket Helmet
by Gunn & Moore
Cricket helmet complies with BS7928:2013.
Rigid, high impact outer shell with EPS liner.
Senior size only: head size 540-590mm.
Read more
The Gunn & Moore Purist Geo II Cricket Helmet is designed to meet the latest safety standards allowing you to step up to the crease with confidence.
Cricket helmets with a robust shell protecting you from the impact forces of wayward deliveries.
A smooth lining on the inside ensures the cricket helmet sits comfortably on the head for extended spells at the crease.
At the front of the cricket helmet, the Geo steel grille utilises a geodesic structure that's proven to be ultra strong.
At the rear of the cricket helmet, a new dial adjuster makes it easy to attain the perfect fit.
These are senior size cricket helmet.
GM bring you a high impact, good visibility adult cricket helmet.
Features
Improved peak strength and precisely fitted Geo steel grille greatly reduces the risk of the ball penetrating the gap between the two.
Rigid, high impact outer shell with EPS liner withstands great force.
Complete with new dial adjuster band for ease of fitting and removal of helmet mid innings.
Fitted with a Geo steel grille as standard.
Geodesic designs are mathematically proven to be ultra strong structures.
The use of geodesic designs ensures the grille has optimal impact resistance from all frontal directions.
All bars of the Geo grille feature properties of geodesic curvature.
Complies with BS7928:2013 Specification for Head Protectors for Cricketers, British Standards Institute.
Colour: navy blue.
Senior Size Only: Head size 540-590mm.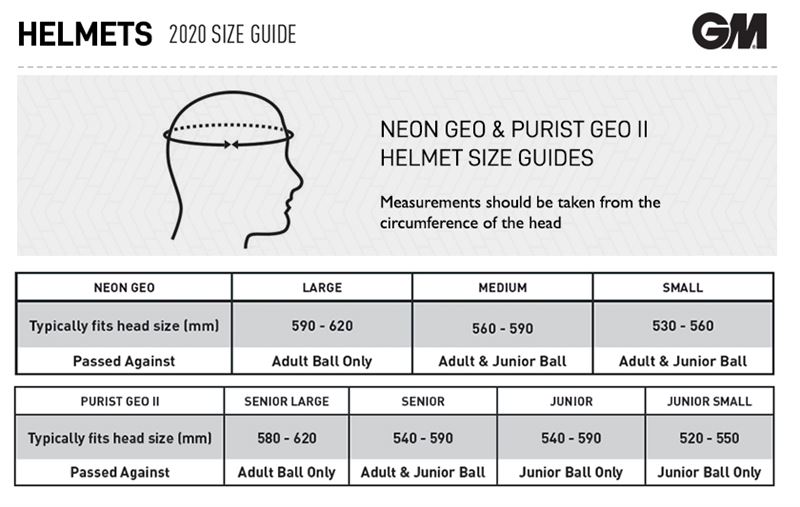 Customer Reviews for Gunn & Moore Purist Geo II Cricket Helmet
5 out of 5 Perfect

Newitts Verified Purchase (2 Mar 2022)

This helmet is perfect and exactly what I needed to start playing again
Standard Delivery
Standard Delivery