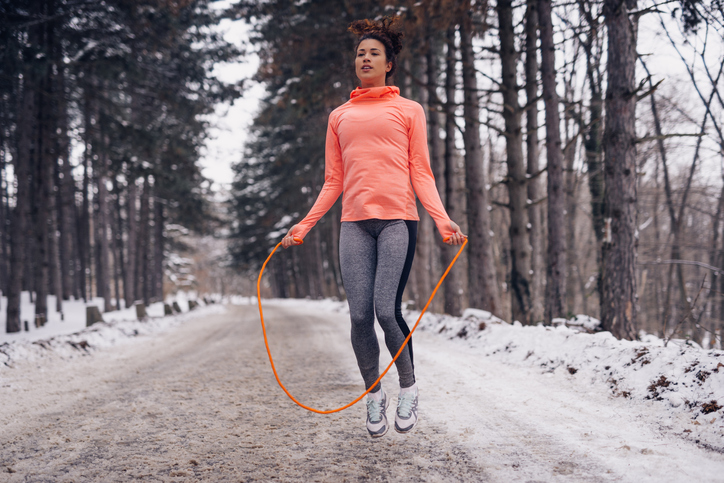 It can be difficult to get and stay fit during the colder months, especially with the darker nights and the colder weather. We often have to search hard for the motivation to get out of the house and get going. Often, even going out to an exercise class or for a run seems less attractive during the darker days.
Given that exercising in winter seems to be a less popular activity, here at Newitts we have compiled a list of sport and fitness equipment that you can use at home to keep you and your family moving and get some physical activity without having to leave the house.
Why not have a browse and see if any of this fitness equipment appeals to you to use at home.
Skipping Ropes
Skipping and Skipping Ropes are a fantastic way to get and continue your fitness and can be done pretty much anywhere. You just need to find some determination and a skipping rope of course! Skipping is a quick moving workout that can tone your muscles, strengthen your body and increase your cardiovascular health. It is a great calorie shifter so if you plan on eating a little more over these cold months, skipping may be the way to help control your weight.
Aerobic steps/ blocks
Aerobic steps are a very affordable way to get and keep fit without having to leave your sitting room. Online at Newitts.com we sell a variety of aerobic steps that are compact, light and even with adjustable height! Aerobic steps are also suited to varying fitness levels and can help you build up stamina, strength and your overall cardiovascular health and fitness. You can even do it without missing your favourite TV programme.
Table Tennis
One for all the family. If you have a little more space at home and want something for the family all to enjoy together, a table tennis table may be your answer. Table tennis is a very popular sport and once you have invested in a table (we have a number available from Newitts.com), it is an affordable sport, which can be played at home. It is super for your aerobic fitness and can help you to build up endurance. It is an activity to help improve hand eye coordination, power and strength. You will be using both your legs and arms.  
Punch bags
A punch bag is an excellent way to get your body pumping this winter. You can get punch bags, which take up little space, if this is something you are short on. They are invaluable tools for those of us seeking balance and strength improvements. Punch bags help us to increase our fitness levels without having to leave the home. They can be great mood busters and help alleviate any strain you are under. Get your heart pumping and mood lifted today with a good, strong punch bag.  
Hula Hoops
A great one for the whole family is the hula hoop. Hula hoops are excellent for getting your waistline in shape and also help to work on your core. It is also great fun and an activity that can help you to tone up and shed pounds, if done regularly.
Kettlebells
Kettlebells are weights that can be lifted like ordinary dumbbells, but can also be swung about for an intense cardio workout. With kettlebells you can have a workout in little space that will get your heart pumping and exercise your whole body. You can burn up just as many calories, as going for a run, all you need is the room to swing your arms. There are also hundreds of exercises you can do with a kettlebell.
Why not have a browse online and see what you can find to use from the comfort of your own home?