Our ATREQ Therapy Massage Percussion Gun is a clever handheld percussive device that helps take away those annoying and uncomfortable muscular aches and pains. 
The percussion gun has been particularly popular for beating back pain, especially for those aching from sitting at the desk all day long! 
For those of you on a tighter budget, It is an invaluable, high quality tool at an affordable price.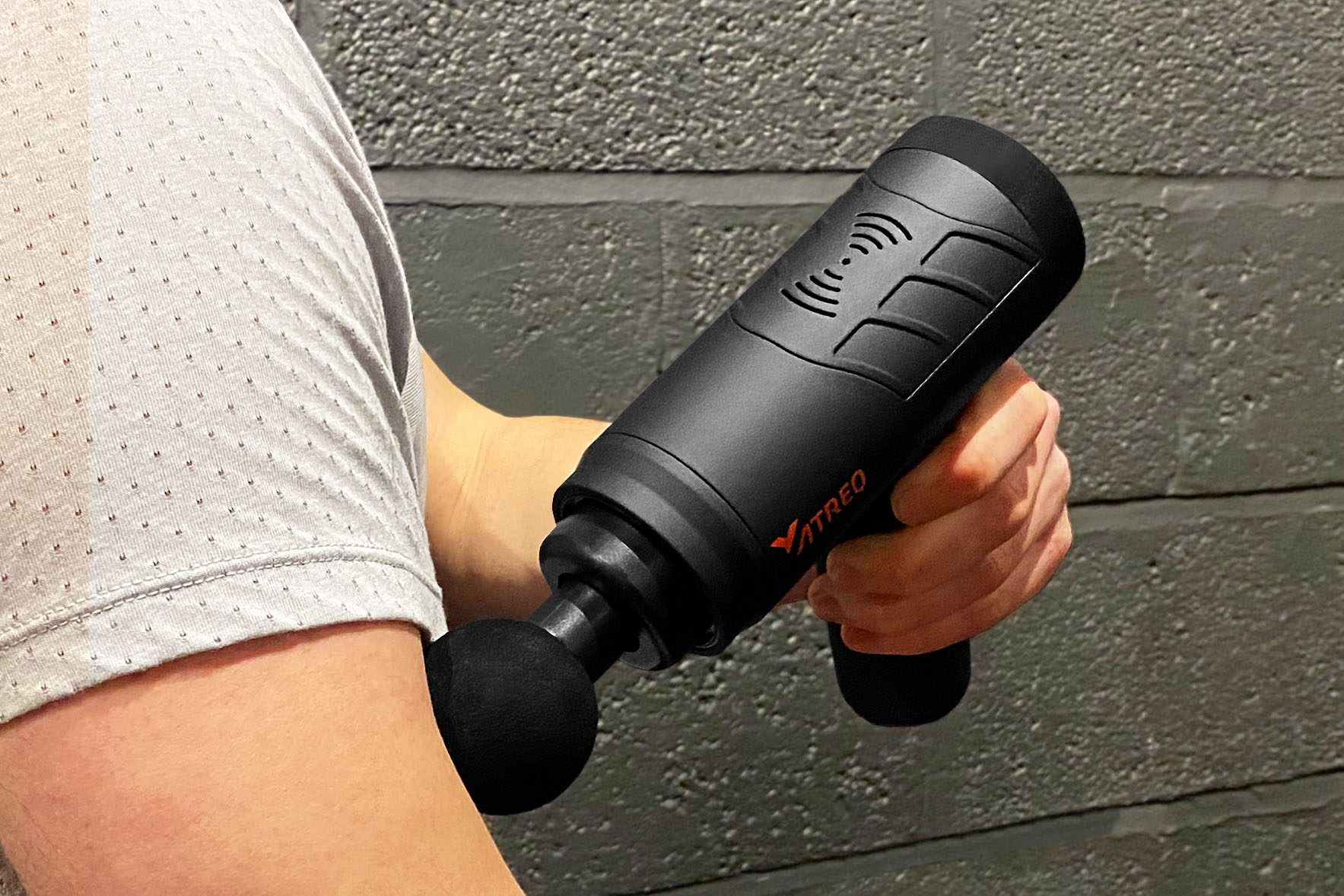 What does it do?
The Massage Percussion Gun emits quick pulses over a short duration deep into the soft tissues of your body. In doing this, it is a terrific tool to boost both the growth and repair of tissues by increasing the blood flowing to the area of discomfort. 
ATREQ'S  Massage Percussion Gun comes with four head attachments which allow you to reach all areas of the body so you can target the treatment to your needs. You can reach any muscle group you require with:
The fork head: necessary for neck and spine use
The bullet head: for deep tissue, joints and trigger points
The rounded head: for larger muscle groups
The flat head: for any part of the body 
What are the benefits?
Helps soft tissue pain and soreness
Speeds up recovery after injuries
Improves overall body health
Prevents inflammation and damage
What's included?
1 x Massage precussion gun. 4 x Shaped head attachments. 1 x Charger. 1 x Carry Case.
Key features
20 multi speed settings that give high power and optimal pressure but a low noise experience. It also has an easy grip silicone handle, is cordless and lightweight. 
Further details
Product size: 23.8 x 6.5 x 22cm.
Product weight 1.3kg.
Power switch and LCD speed display screen.
DC 12V, 24W Brush Motor.
12V, Rechargable Lithium battery. 
Charger fits UK plug sockets. 
CE approved plug (Conform to standards: EN 55014-1:2017 / EN 55014-2:2015 / EN 61000-3-2:2014 / EN 61000-3-3:2013).
 
If you would like to purchase this amazing product today simply CLICK HERE