We are all know this time of the year. Too many mince pies and good food and the dreaded time to think about shaping up.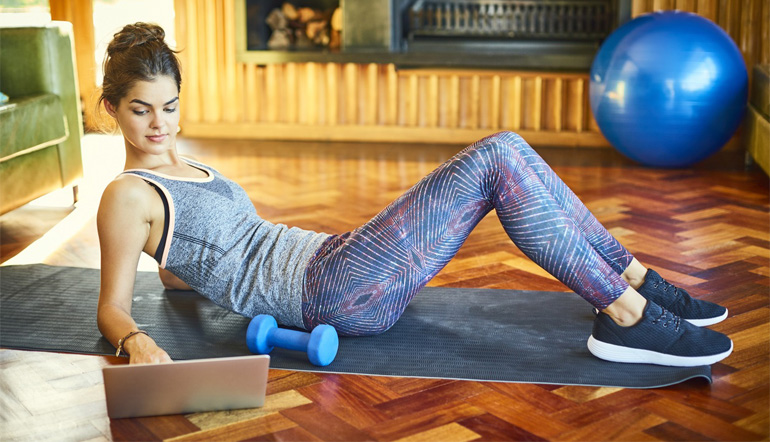 This blog is aimed to give you seven starting ideas to get you moving in the New Year but all from the comfort of your home.

Idea 1: Work out DVD
Purchasing a workout DVD is a great way to build confidence at home and you do not even need to leave your sitting room. If you can set aside even just 30 minutes a day to follow a work out DVD, you will soon get moving and start to notice the benefits from it.
Idea 2: Step up block
Placing a step up block in front of the television on a night is a great way to do some exercise whilst watching your favourite programmes. Step up blocks are a great way to get your heart pumping and legs moving and having the television on can be a great distraction. You can also swing your arms for momentum and an extra workout.
Idea 3: Weighted vests / wrist bands
Wearing a weighted vest or weighted wristbands around the house can add a bit of weight to your usual routine without going into the extra effort of following a fitness workout. For example, doing the vacuuming with a weighted vest on can make you burn extra calories and break out into a sweat.
Idea 4: Fit / Gym Balls
Gym balls are a great way to target all the major muscle groups. A gym ball is a fantastic training tool for building core strength, balance and coordination. They are great for all training levels and also for physiotherapy and gentle workouts. It is a very adaptable training item.
Idea 5: Circuit Training Kit
Ladders/Cones/Skipping Ropes/Dumbbells/Exercise mats/Stopwatches are all affordable items to set up a circuit workout. Circuit training is a great way to build stamina and shed some pounds. Short bursts of activity are a great way to get your fitness going.
Idea 6: TRX suspension trainer
Suspension training includes natural bodyweight training. The aim is to develop balance, flexibility, and joint stability simultaneously. Suspension training develops physical strength while using functional movements and dynamic positions. The versatility of the suspension training makes it a very accessible apparatus to achieving a great workout. Using a suspension trainer helps you to use you core significantly along with increasing your arm and upper body strength.
Idea 7: Kettlebells
Newitts.com have a range of weights ranging from 2kg to 40kg! The kettlebell is a basic exercise that is used for improving and strengthening the muscles. Kettlebell swings are an easy exercise to intensify by using a heavier kettlebell. You can increase the repetitions or only do one-armed kettlebell swings.
To remember:
You do not need to spend a fortune to get fit from home. Even if you do not have access to gym machines or props you can build muscles and burn calories on a budget by taking a brisk walk, then do abdominal exercises and push ups. There are a number of exercise videos available to follow on YouTube.
The key elements to a workout:
A warm up.
A cardiovascular workout. These are aerobic exercises to get your heart pumping.
Resistance exercises. These are strength-building exercises.
Flexibility moves. These are to try and increase and maintain your mobility.
A cool down.
Have you get any top techniques that you could recommend?