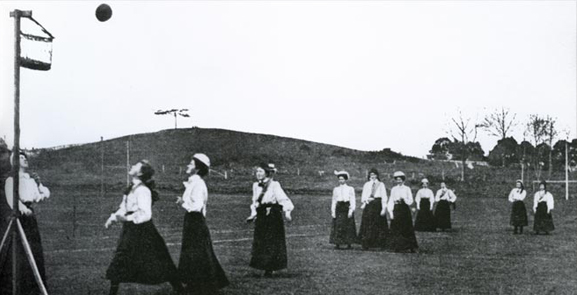 Netball started out as a form of basketball before it evolved into the game we know today. The history of netball stems right back to 1891, where it evolved originally from the game of basketball.
From the first game in England in 1895, to the inclusion in the Commonwealth Games 103 years later, through to the instigation of Fast Net in 2008 and Fast5 in 2013, grass roots Netball has come a long way, yet it still remains an amateur game. Below, Newitts takes a look at the history of netball.
Early History
In 1891 in Springfield, Massachusetts, a man called James Naismith invented an indoor game designed for "high-spirited" young men at the School for Christian Workers, now known as the YMCA.
A year later, the sport was modified for women as part of a bid to progress women's participation in sport, and so formed women's basketball. Different variations of the sport then began to arise across the United States and in England until, in England, an entirely new sport was formed altogether known as 'Netball'.
The first game of netball was played at Madame Ostenburg's college in 1895, and the first codified rules of netball followed at the start of the twentieth century. It was also around this time the sport began to grow in popularity across the UK.
The rules
There were initially no standard rules of the game at this time and there existed both nine-a-side and five-a-side versions. It wasn't until an Australian tour of England took place in 1957, that discussions finally took place concerning standardising the rules of the sport.
Subsequently, representatives from England, Australia, New Zealand, South Africa and the West Indies met up in Sri Lanka in 1960 to establish The International Federation of Women's Basketball and Netball, now known as the International Netball Federation (INF), in order to oversee the sport globally.
The Netball World Cup
Formal rules were established at the meeting and it was decided that there would be World Championship netball tournaments held every 4 years, starting with the first in 1963 in Eastbourne, England. Since then, World Championships continued in Australia in 1967, Jamaica 1971, New Zealand 1975, Trinidad & Tobago 1979, Singapore 1983, Scotland 1987, Australia 1991, England 1995 and New Zealand 1999.
Throughout this period, Australia won the event seven times in 1971, 1975, 1979, 1983, 1991, 1995 and 1999, until the 2003 World Netball Championships in Kingston, when Jamaica saw New Zealand finally breaking the Australian dominance taking Gold.
Australia continued to dominate the Championship in 2007 and retained their title once again in 2011 in Singapore. Subsequently, the 14th staging of the World Championships in 2015 were awarded to Sydney, Australia, defeating a rival bid from Manchester. The tournament ran from 7-16 August and matches were played at Sydney's famous Allphones Arena and Netball Central.
Sixteen nations competed at the championships, in pools of four with Australia and New Zealand battling it out in the final to see Australia take their 11th title in a narrow 55-58 victory. The final at
Allphones Arena was attended by 16,752 people, a world record for any netball game. The next World Championships will be held in Liverpool, England in 2019.
The Commonwealth Games
In 1995, Netball became officially recognised as a sport of the International Olympic Committee (IOC), and in 1998 in Kuala Lumpur, Netball was included for the first time in the Commonwealth Games programme where Australia took the Gold medal, New Zealand Silver and England Bronze. It was also a programmed sport in 2002 Commonwealth Games in Manchester (England), in 2006 (Melbourne, Australia) and 2010 (Delhi, India).
Netball is now a core sport in the Commonwealth Games, with the next edition taking place on The Gold Coast, Australia in 2018.
Fast Net World Netball Series
In 2008, the Fast Net World Netball Series was officially launched, which comprised a shorter, sharper version of the netball game, then in 2013 this evolved into Fast5, attracting a host of new audiences around the world.
Today, netball is reportedly played by over 20 million people worldwide. It remains primarily a women's sport, although male participation is increasing in some countries.
In 2014, Netball was one of 12 sports which was initially considered for inclusion in the 2020 and 2024 Olympic Games, but sadly it did not survive the first cut.
Although Netball remains a popular sport around the world, it is still predominantly played in Commonwealth countries and remains an amateur sport, for now.