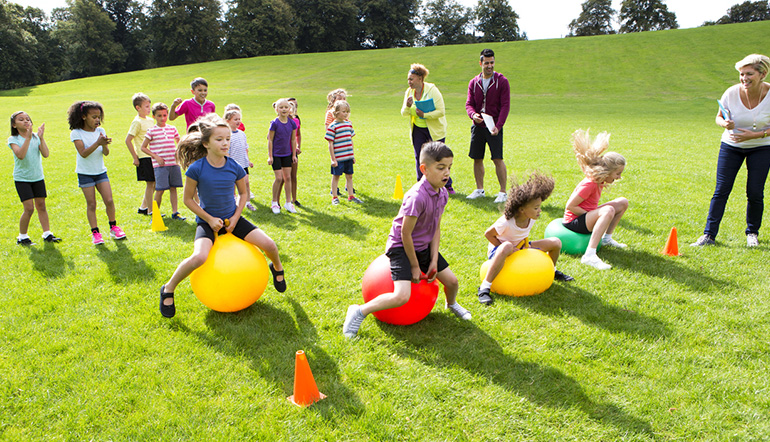 As our lifestyles are becoming more and more sedentary and more inundated with technology, a lot of us are probably not getting enough activity per week or per day even! This blog includes information about gear you can get to get your little ones more active. A lot of the activities they can do individually, which can help provide entertainment and distractions within your busy lifestyle.
Coordination equipment
It is important for children to work on their coordination and a great way to do this is to be active. Coordination helps children develop and use controlled body movements whilst taking part in activities. The use of controlled movements helps to conserve energy and prevents over exertion and fatigue. Moving about whilst using equipment can also help children to develop vital skills such as coordinating hand-eye movements. Coordination is also improved by participating in sport.
At Newitts.com we have a great supply of equipment, which help to develop childrens' coordination as well as provide hours of fun!
Here is a selection of some of our best coordination items that you can find online:
Bean Bags: are great for play and are educational and are suitable for both indoor and outdoor use. You can get ball shaped, animal shaped, and traditional rectangular bean bags.
Play Dice: there is a good range of traditional, soft, inflatable, coloured and giant play dice. They are great for building and catching. They can be used for teaching and for colour recognition too!
Play Rackets: there is a selection of fun and bright rackets to help introduce young ones to racket sports. The rackets available have large hitting areas, which help to build confidence whilst playing.
Frisbees: are great for developing hand-eye co-ordination. You can find lightweight frisbees, which are perfect for beginners. They help children to develop their throwing and catching skills safely.
Play Balls: There are a huge variety of play balls, from sponge foam balls, inflatable balls, non-sting balls, flexi balls to even bean bag balls! The play balls come in a variety of sizes, shapes, textures and colours. They help develop basic skills like catching and throwing while developing hand-eye co-ordination. Balls can be used individually but are also great for group and teamwork.
Sensory Play
Sensory play is very important for children to explore their senses. It encourages free play and lets them explore a variety of different materials. It is also great fun too. Sensory play also helps to promote learning and development. At Newitts.com our sensory play includes learning and development activities that stimulate children's senses: touch, smell, sight and hearing in a range of bright colours.
We have a huge range of sensory play items available today, including: pom pom balls, porcupine balls, flexi balls, inflatable dice, bump balls, rubber frogs, stepping domes, fluff balls, small urchins and many more…
Movement Equipment
Movement equipment is a great way for children to work on their balance and mobility skills. With good balance and coordination there is less of a chance of injury as the child is likely to respond correctly when needed. By improving balance and coordination, finer motor skills can be achieved.
The selections below are really perfect to get your children going:
Balance equipment: there is a huge selection available to work on those important stability skills. Some of the items available include a balance snake, balance walkways, marking hands, feet, arrows, mini spots, run n jump steps etc…
Hula Hoops: you can get active and add variety to your exercise with a hula hoop. The ones online are suitable for children and adults and come in a variety of colours and sizes.
Play Parachute: parachutes encourage co-operative, non-competitive games and reinforce turn-taking and sharing. They are great for all ages and abilities and a wide variety of games can be played on and around the Parachute. Furthermore, bean bags, balls and other items can be introduced to widen activities.
Skipping Ropes: We offer a wide variety of skipping ropes and jump ropes from double Dutch skipping ropes to plastic and rope skipping ropes.
Dance equipment: is perfect for any kids dance lesson and will give a maximum visual effect to all. Check out our selection of flags, rings, wands and bands and packs today.
Sports Day/Fun Day equipment: space hopper, skipping ropes, flags, relay batons, hoops, cones and bean bags.
Soft Play Equipment:Soft Play helps promote children's all-round development through crawling, climbing and balancing in a safe environment through play while interacting with other children. They can be used in an educational setting as well as at home and for parties.
Soft Play is another fantastic way to get children moving. Online there is a huge variety of shapes and sets available. The sets can provide endless hours of fun whilst at the same time developing an understanding of movement for the younger children.
We have a very large collection of soft play equipment designed to stimulate the minds of children and to encourage play with movement whilst learning balance skills.
We have a huge range of soft play items including: inclines, ball pools, wedges, cylinders, slides, mountains, platforms, tunnels, steps and many more!
Our Top buy = Play Packs!
Play Packs help coordination, concentration, cooperation and communication skills! They are also a superb way to get moving and keep buys. The packs are athletic, aerobic and gymnastic! It's a winner for children! Online we have a huge range of packs on offer at great prices!