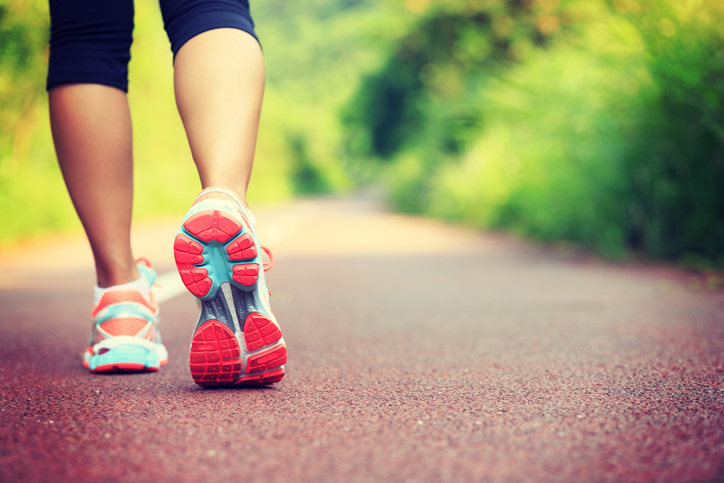 It is recognised across the UK by a number of health authorities that we should try and walk around 10,000 steps a day. In reality the average person only does 3000-4000 steps.
Walking has a number of great benefits for your health. It can give you a real boost and make you feel great inside and out. Besides, being inactive risks your health and increases your chance of having potentially serious health problems.
Also, how active or inactive you are during the day can have a notable impact on your weight. The more you move, the more calories you burn.
10,000 steps may seem arbitrary but if you think of the steps as roughly 5 miles, this also can equate to the 150 minutes of exercise that we are recommended to do each week. This is 30 minutes of moderate activity 5 x a week.
Across social media at the moment there are a lot of advertisements about walking 10,000 steps a day in March to raise money for Cancer Research.
Have you thought about challenging yourself and doing something for charity too?
Listed below are some ideas of how to get you up to 10,000 steps a day.

• Walk to get your morning coffee rather than making it at home.
• Get off a stop early on your way home from work.
• Park the car a bit further away from work.
• Set yourself challenges- whether that be signing up for a walking event or trying a new activity to get you moving more.
• Try a new sport / activity / exercise – steps do not just have to be walking!
• Mix it up and try walking different routes each day.
• Go round the supermarket aisles twice – you will soon rake up more steps!
• Put some music on and have a dance!
• Have your work calls on the move and go hands free.
• Do some household chores such as vacuuming.
• Go outside wash the car, gardening or cut the grass.
• Use the car less where possible – walk to the shops, to meet friends etc.
• Take a walk after your evening meal.
• Go on a walk after you lunch, even if it is brief. All these steps will work towards the bigger goal.
• Try to take the longer route.
• Listen to music as a distraction (but stay safe and be aware of your surroundings).
• Chat to someone on the phone whilst walking (but stay safe) or walk with someone – the steps will soon add up without you realising.
• Use the stairs where possible.
• Walk the dog.
• Do not fast forward through adverts. Get up and have a walk around.
• Play with your children. Take them to the park and have a run about or kick a ball about.
• Join a walking group.