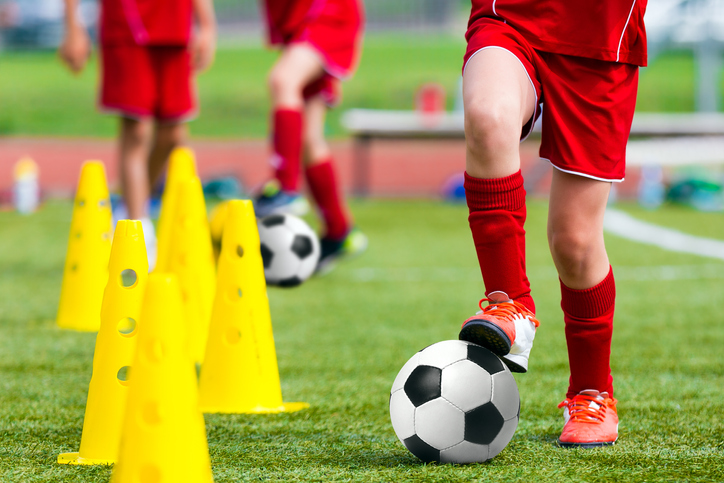 As our lifestyles are becoming more and more sedentary and more inundated with technology, a great number of us are probably not getting enough activity per week or per day even! This blog includes information about football training aids that you can get to get for you, your team or even your little footballers to get you all more active and to fine-tune you skills.
A lot of the equipment can be used just for your self or as part of a team training session. They can be used for training purposes, such as agility, endurance or precision training but can also be used as entertainment and distraction within your busy lifestyle.
It is important to work on coordination through the use of training aids and a great way to do this is to be active with them. The use of controlled movements helps to conserve energy and prevents over exertion and fatigue. Moving about whilst using equipment can also help develop vital skills such as coordinating hand-eye movements, which helps when participating in sport.
Training aids, which promote movement are a great way to help you to work on your balance and mobility skills. With good balance and coordination there is less of a chance of injury as you are likely to respond correctly when needed to. By improving balance and coordination, finer motor skills can be achieved and hopefully more games won!
At Newitts.com we have a huge range of training aids to help you work on and perfect your skills and help to improve your coordination and movement.
Listed below are some of the products we currently have available on line.
1. Agility Rings: for fast feet exercises and varying your training techniques.
2. Hurdles: ideal for improving agility, footwork and speed.
3. Passing Arcs: designed for passing practice and close ball control practice.
4. Slalom Poles: great for ball skills and general fitness.
5. Speed Ladders: useful for warm-up, or high speed endurance.
6. Strategy Boards: lets you communicate lineups, formations and tactics.
7. Mini Goals: can be used anywhere and are great for target practice and small sided games.
8. Sports Markers: cones, discs, numbered discs: mark out circuits, obstacle courses, goals etc.
9. Mannequins: fantastic for training drills and when working on shooting goals.
To view our Football Training Aids range