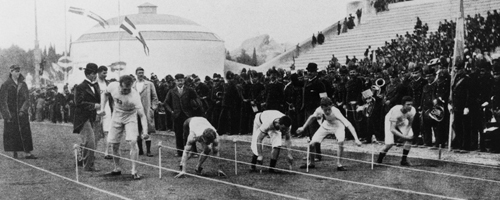 Olympic clothing has changed a great deal since the very first Olympic Games took place in Athens in 1896. Over the decades, sportswear design has been adapted to suit the many different varieties of clothing we see on athletes today.
The most dramatic changes have occurred in women's sports clothing. In 1896 women were not even allowed to participate in the Olympic Games, and when they were first included in 1900, their dress code differed greatly to the men.
Below, Newitts takes a look at the history of Olympic clothing together with the rise of women within the Olympic Games.
The early years
At the start of the nineteenth century, the Olympics and sports in general was heavily dominated by men. Sport was not considered a feminine activity, therefore it wasn't until the end of the 1800s that women began to use exercise as a method to improve their well being, and so began to participate in sporting events. Popular sports were cycling and swimming whilst upper-class women took part in tennis, golf and croquet, but they were not yet invited to the 1896 Olympics.
1900s
In 1900, women's golf, tennis and yachting were first included in the Games. The Olympic clothing was restrictive for women who had no choice but to play in ankle-length dresses with long sleeves and high necks, and shoes with a heel - femininity took priority over practicality and performance. In comparison, men were able to keep cool in shorts and a short-sleeved cotton shirt.
The attire for women continued well into the 1900s until 1912, at the Stockholm Olympic Games, when the female gymnastics team began to wear short knee-length skirts, which were considered unladylike by many. It was in this Games that women's swimming and diving were first introduced to the programme, and female competitors wore sleeveless thigh-length woollen bathing suits. Female US swimmers were actually banned from taking part due to the "immodest swimming attire", whilst male swimmers were enjoying trunks called 'athletes' which were worn under sheer swimming costumes.
World War I
Following the experiences women endured during the War, the rules of femininity finally began to change - women had proved they were more than capable physically to conduct most of the jobs men had done prior to the War, and it was finally recognised that clothing was restricting women from performing these jobs to the best of their ability. The change in attitude rubbed off on the Olympic establishment and practical women's sportswear was finally accepted. French designer, Coco Chanel, brought lighter, sportier and less fussy sports clothing to the forefront of European fashion including fabrics such as stretch jersey. By the 1920 Olympic Games in Antwerp, women were finally competing in shorter-length skirts and sleeves with lower necklines.
The 1920s
By the Paris Olympic Games 1924, there was a noticeable move away from restrictive clothing for women, and instead more simplified, practical clothing that was ready-to-wear, was created. Young women were no longer paranoid about revealing their bodies and sportswear was designed to be far more practical with shorter hemlines and lighter, cooler fabrics such as silk, satin and jersey replacing the traditional wool of previous years. Swimwear was also adapted into a long vest style that stopped just above the top of the thigh. In 1928, at the Amsterdam Olympic Games, women's track and field events were introduced to the Olympics for the first time. Female athletes wore short-sleeved shirts and shorter mid-length shorts to compensate, setting an overall standard for women.
"US athlete Jesse Owens won four gold medals wearing the Dassler Brothers track spikes"
1930s/40s/50s/60s
By the mid-1930s, trousers became a more common form of casual wear for women and this was also apparent in sportswear. It was in the 1930s that celebrity endorsement of sports brands first began. In 1936, Adolf Dassler (part of the Dassler Brothers who owned a shoe company that would soon become Puma) persuaded US athlete Jesse Owens to wear a pair of their track spikes - he went on to win four gold medals and attracted a lot of attention for the brand and a boost in sales.
After World War II, during the London Olympic Games in 1948, female athletes were seen wearing very similar sporting clothes to men, and Puma became the official supplier for the entire West German football team. Women's Olympic clothing became less of a controversial subject, and instead was celebrated for being practical yet fashionable.
The 1950s symbolised the rise of synthetic fabric to produce sportswear that was not only functional, but also fashionable. Spandex/Lycra/Elastane was introduced in the 1960s and transformed sports clothing for men and women. The new stretchy fabric was not only introduced to sportswear, but was used for underwear and swimwear. Co-ordinated tracksuits also became popular in the 1960s, in nylon and jersey cotton. By the Mexico Olympic Games 1968, the shorts for men had become ultra-short to cope with the hot climate.
The 1970s/80s/90s
By the 1970s, cyclists, gymnasts and dancers were all incorporating elastane/spandex into their sportswear with the first stylish leotard introduced for ladies' gymnastics at the 1972 Olympic Games - women began to fall in love with the leotard! During the 1980s, all the top sportsmen and women were wearing elastane/spandex and this quickly transferred to general fashion and spandex leggings became a huge 80s fashion icon.
In 1984, at the Los Angeles Olympic Games, the IOC agreed to corporate sponsorship and it was the first Games to be entirely privately funded. Athletes wore clothing emblazoned with official sponsors' logos such as Adidas, Reebok, Nike and Puma - the Games was fully commercialised. At the Barcelona Olympic Games in 1992, futuristic style body suits were first introduced to show off the superfit bodies of the athletes.
"Sportswear firms were competing to impress with high-tech, performance enhancing sportwear"
The Noughties
By the Sydney Olympic Games 2000, the futuristic body suit known as the 'swiftsuit' was worn by Australian sprinter Cathy Freeman. The 'fastskin' swimsuit also showed improvements in fabric to allow greater ease of movement through the water. Bodysuits continued to be extremely figure-hugging, leaving little to the imagination!
By 2008, sports branding was everything and the Beijing Olympics 2008 was labelled the most commercial Olympics to date as Nike and Adidas competed for branding on some of the world's biggest sporting heroes.
By the London Olympic Games 2012, sportswear firms were competing hard to impress athletes with high-tech, performance enhancing sportswear that advertised their brand. Sports clothing evolved into micro-sized tops and pants which showed off the physique of elite male and female athletes, and 2012 was dubbed the Fashion Games.