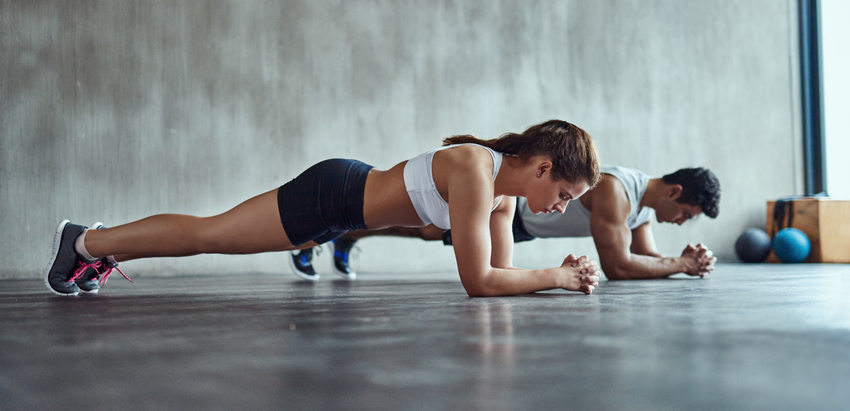 This is page is a brief introduction to strength training and the types of equipment that is available to you here online at Newitts.com.
To begin with: strength training is physical exercise that uses resistance to try and build strength, endurance and muscles!
Strength training is part of a balanced routine that includes aerobic activity also. Aerobic activity – such as pedalling in a bike helps your muscles to use oxygen effectively. When you strength train, you use your muscles to work against weights. By doing this you increase the amount of muscle mass in your body and therefore your muscles have to work harder than previously.
People tend to work out with either free weights (dumbells, barbells) or weight machines. Weight machines tend to help you isolate and work on a particular muscle where as free weights work on a group of muscles. The ultimate aim is still to build muscles and strength.
You can also use your own body weight (push up, sit up) and resistance bands for strength training.
It is very important to learn the correct techniques to reduce the risk of injury and also to make sure that you are physically well enough to weight train.
You should start off slowly and let your body get used to the activity. It may help to get some expert knowledge. When you have mastered a technique you can then keep adding more weight.

A basic guide
Start off with body weight (sit ups, push ups, squats)
Use weights 3 times a week and have a rest day in-between
Warm up 5-10 minutes at the start
Focus on doing repetitions rather than one or two very heavy lifts
Check your technique
Cool down for 5-10 minutes at the end – focussing on the muscles you have used
To conclude
It is important that you do not just use strength training as your exercise. Aerobic exercise is also important (swimming, running, cycling etc). You could do these on your 'rest days' from weight lifting. It is recommended that you do moderate physical activity each day so it is important that you focus on aerobic activity too.
Strength training is a great way to improve strength, endurance, and muscle tone. It is important to remember to start slowly, follow correct motions, do not lift too much weight early on and increase you workout gradually in order to prevent injury.
Soon enough you will see more muscle tone and definition. You may also discover that you have boosted energy and performance.
Types of strength training equipment
Chinning and Dipping
Crossfit Tyres:can be used for Farmer's Walks, Dead Lifts, Tyre flips and Tyre throws. Our tyres range from 12-113kg
Gym Hammers:are great ways to exercise a whole range of muscle groups all at the same time.
Lifting Platforms: Protect your floor with some top quality, heavy duty, impact absorbing rubber mats for weight equipment.
Multi Gym Station Accessories: including attachments, add-on weight kits and bars. These are all useful accessories for a gym station.
Olympic Bars: help bulk up and build up your exercise regime. We have a great selection of straight, curled and tricep bars as well as collars.
Olympic Collars
Olympic Plates: cast iron and rubber weight plates, some with bumper grips, in a wide range of sizes.
Olympic Stations
Olympic Storage Racks
Plate Loaded Gym Equipment: Exigo's selectorized machines combine attractive, innovative design with outstanding quality and performance. The incremental weight options, provides resistance increases and numerous load options. The machines are often used as a convenient alternative to free weight equipment, such as dumbbells and barbells. They successfully isolate muscles and provide resistance in a fixed plane of motion, in a safe and efficient manner.
Selectorized Training Equipment
Strongman Equipment: World's Strongest Man established in 1977 our Geoff Capes is Britain's most successful strongman, we stock much of the equipment you need to be the next Geoff Capes, from Tyre toss to the Farmers Walk.
Training Stations
Weight Vests: Weight Vests add weight to the upper body, usually as part of resistance and strength training and we carry a comprehensive range. Add an additional fat burning element to your workout today.
In the 70's Jeff Egbert asked a top goalie in Germany how he developed lateral speed movement? The answer was 'you should use a weight vest'. Jeff built a weight vest for track and field training. Since then, the vest has been used in many sports for resistance training and is popular with the Military.
Weightlifting Belts: An essential workout companion. Weightlifting Belts can be used in body building as well as weight lifting and help support your core muscles and prevent injury.