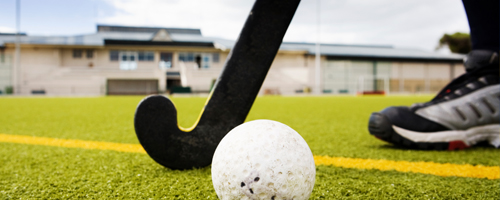 Whether you're out on the hockey field or playing indoor hockey, finding the right hockey shoes to protect your feet while playing is essential.
There are multiple types of hockey shoes available to choose from to include, cleats, turf shoes and specialist hockey shoes. The trick is to learn how to buy the right shoes to ensure your feet remain comfortable and well supported throughout the game.
Below, Newitts provides a beginners guide to finding the right hockey shoes.
Types of hockey Shoe
Hockey shoes come in a variety of different types to include regular cleats and turf hockey shoes:
Turf shoes - most amateur and beginner hockey players choose turf shoes for playing due to their trainer-like exterior which provides a good level of ankle support. Further features of turf hockey shoes include gait control, which controls how the foot falls, and different grips which will depend on the manufacturer.
Cleats - cleat hockey shoes are mainly geared toward field hockey and will therefore feature plastic or metal studs on the bottom of the shoe which help with grip when running over grass. Cleats are the ideal choice of hockey shoe for hockey players who are seeking as much grip as possible out on the field; they are generally more expensive to buy than regular turf shoes.
Choosing a hockey shoe brand
Hockey shoes comes in a range of popular brands with shoes to suit every budget. Newitts sells mens and women's hockey shoes by some of the most popular brands to include Grays and Kookaburra hockey shoes. Further popular brands include Adidas, Asics, AstroTurf, TK and Grython.
Choosing the brand of hockey shoe best suited to your needs boils down to personal preference and the budget you have available, and the comfort and style of the shoe. Below, Newitts has showcased some of our most popular hockey shoes to illustrate some of the options you can choose from:
Grays G500 Junior Hockey Shoes - from £22
The Grays G500 Junior Hockey Shoes are a lightweight durable hockey shoe with plenty of support for junior hockey players, to help reduce stress and strain on the body. The upper contains a supple dual layered mesh which provides breathability and comfort reducing weight, while the Dual LS Cradle provides lateral forefoot stability and allows the upper to move with the foot. In addition, the hockey shoes come with a pre-formed comfortable EVA footbed with arch support.
Kookaburra Gecko Hockey Shoes - £19.99
The Kookaburra Gecko Hockey Shoes utilise the very latest materials to produce performance footwear that's lightweight, durable and bang on trend. Featuring a waterproof, durable upper and breathable mesh hexagon airflow construction, the hockey shoes come with a stitched toe section for enhanced durability and an EVA midsole.
Grays G5000 Hockey Shoes Mens - from £32
The men's Grays G5000 Hockey Shoes are an outstanding low profile shoe ideal for both Grass and Astroturf at club, university and school use. These hockey shoes are designed to give lighter performance whilst maintaining stability when running fast and changing direction. The shoes come with a lightweight PU upper with micro punched ventilation holes for breathability.
Choosing a hockey shoe brand
Always choose your hockey shoes based on the size and fit of the shoe once on rather than the tag size. Like most sports shoes, hockey shoes come in a wide range of sizes; sizes can vary depending on the brand you choose. Below is a simple 4 step guide to finding the right hockey shoe to fit:
Measure the length and width of your feet to get a better idea of which size is best for you.
Check your measurements against each brand because sizes may vary from brand to brand. You may find that a size larger or smaller than your usual foot size is more suitable depending on the brand and style
Trace your foot, or get it wet then leave an imprint on paper to determine which type of control system you need.
- if you have flat feet, you'll need shoes with motion control, but if you have a high arch, you'll need soft midsoles and cushioned soles. If your feet roll outwards when you run, you'll need gait control.