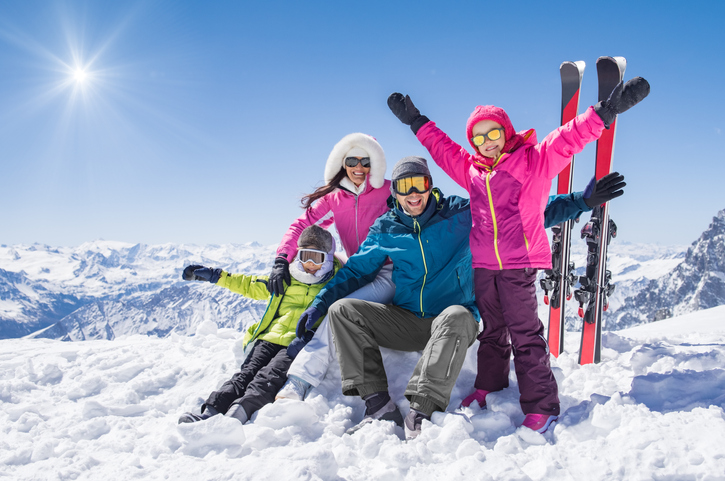 • Skiing is a fantastic outdoor sport during the winter months. It can be quite difficult in the winter to get children outside and active. By getting your children to try skiing, it gives them options during the winter. Of course, we should also aim to keep children active all year round!
• Children learn new skills a lot faster than us adults; this is also true for skiing. A lot of ski schools allow children to start at the age of 3, and some even younger than this.
• Skiing is a sport you can enjoy as a whole family. Having children means your life as you knew it has just changed but you can still do the activities that you enjoyed as a couple. Yes, you may have skied before having children, but you can ski with them too!
• You can be active with your children on the slopes. You do not necessarily have to be with them the whole time, they could go to ski school, or you could enjoy some runs together. If you are new to skiing yourself you could all learn together. It is really important to live an active life together and combat childhood obesity.
• By taking on a sport together you will increase the time you spend together as a family and skiing gives you an interest that you can share as a family on and off the slopes. When learning together you can share in the laughs and struggles together.
• It is important to remember that our children are the future of sport and so you will often find discounts at indoor ski centres across the UK to try and get children to try something new and find their potential. You can also hire the gear you need to get you going on the slopes.
• Skiing is great fun and a great way to escape the stresses of every day life. It has lots of health benefits such as working out your core muscles groups, along with improving your coordination, balance and increasing your overall strength.
• Whether it is skiing or a different winter sport, try and get your child on the slopes during the winter season. Your child will benefit from staying active and also will have fun socializing with other children or your own family whilst enjoying the sport together. Try something new today!