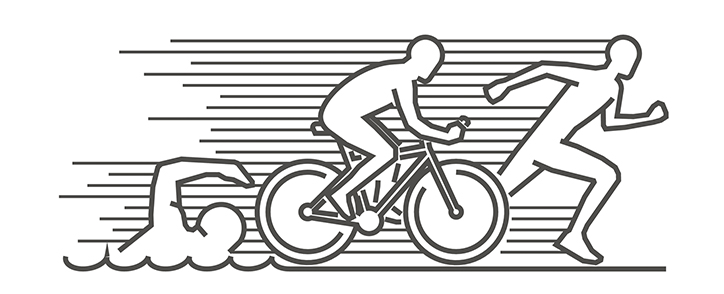 What is a triathlon?
A triathlon is an event combining 3 sports. These are swimming, cycling and running and are done in that order. The distances of these 3 sports vary. The most common ones you can find are:
Super sprint triathlon: 400m/10km/2.5km
Sprint distance triathlon: 750m/20km/5km
Standard distance triathlon: 1500m/40km/10km
½ Ironman/Middle distance triathlon: 1.9km/90km/21k
Ironman/Long distance triathlon: 3.8km/180km/42km (WOW!)
Triathlons are not just for the pro athletes. Beginners can have a go too! The most challenging part is the running so if you can already run a bit you are already well on the way to having a go yourself!
By having three different sports, boredom is less likely and the shorter distances of three rather than longer distance of one is usually more exciting for those taking part.
If you are looking to just try a short triathlon, you do not need to spend hours and hours training. You could aim to do 2 running workouts a week, 1 swimming and 1 cycling. You can increase and decrease these workouts depending on your needs and the time you have available. Remember if you are already quite good at one of the skills it would be better to spend less time on that skill and more time on your weaker skill.
Swim
The swim is usually in a swimming pool or open water. This can be a lake or even the sea!
For open water events you must have a wetsuit.
A number of triathlon clubs allow you to practice as they have access to event lakes.The swim start is normally in waves, with times based on your predicted swim time or how old you are.
Depending on what you prefer, you can usually do front crawl or breast stroke in the event.
Bike
Helmets are compulsory for all races.
A bike is an essential bit of kit, but as long as it is suitable for the road you can use it!
Cars etc. use the roads too, so be cautious!
If you are new to cycling, it would be useful to practice cycling on quiet roads until you become more confident.
The route will have signs and there will be people to direct you.
It is always useful to check the route before the race.
Run
The important part of your running equipment is shoes!
They must be comfortable and fit well.
Running after cycling can feel a little strange but it will get easier the further you go.
You often will find drinks stations to keep you hydrated.
Transition
Transition is where all your swim-to-bike and bike-to-run kit is kept during the race.
You will be given a race number to wear on the bike and run.
You will need to rack your bike and lay your kit out before the race starts.
Your helmet must be fastened before you move your bike and cannot be removed until the bike is racked again.
Official will be in transition and can answer your questions.
Training
A triathlon adds variety to your workout routine. Swimming and cycling build strength and give your muscles more rest from the demands of running. Both give your muscles time to recover from runs.
For running and cycling you should be doing a combination of hills, repeats, long and short rides/runs.
For swimming you should aim to work on technique until you can swim front crawl happily for at least 500 yards.
Equipment
You do not actually need a huge amount of gear - you can actually buy a tri-suit designed for all three skills.
You will need a decent pair of shoes.
You may need to purchase a bike though and will need to research what type you will need for your exercise/triathlon goals.
Many people use mountain bikes at tri events, which are great but if you are looking for speed a road bike would be a better option.
Choosing a triathlon
Keep it simple.
Choose a distance you can do realistically.
Keep it close to home and familiar.
Practise the course if possible.
Maybe start with a pool over a lake.
Get yourself fit enough to enjoy it!
Believe in yourself
Be realistic about what you want to achieve on the event day.
It is important to have fun too!
Get help from more experienced triathletes.
Train from time to time with other beginners if you are one!
The Benefits
By using the three skills you will develop all muscles in your legs.
Swimming helps strengthen your upper body.
You will increase your lung and cardiovascular systems.
You will become mentally and physically stronger.
Triathlons can help with weight loss.
They can help reduce risk of injury due to the increased body strength.
What to eat
As triathlons are considered long events, it is important to give your body the correct food.
You can be sweating for well over an hour so it is important to give your body fuel.
Carbs are an excellent source of fuel.
Some people prefer liquids and gels to give their bodies a boost.
Solids do not always sit well in the tummy when exercising.
Water is essential!
What are your top tips for starting out with triathlon training?